Monday, July 02, 2007
Hello there lovely friends, its been a long 2 and a half months, missed me? lol. well first let me try to cook up an excuse, i was too busy running the SIFE Singapore National competition that i didnt have time to blog. but seriously, i've been very busy, i'm sure my groupmates cant agree more.
But I did manage to squeeze out some time for a weekend of fun at sentosa with the 106 peeps. We went there in the afternoon and we put down our bags under a tree in siloso beach, changing and getting ready to play some volleyball. then we realised that beside us, there were 2 gorgeous ladies sun-tanning. one of them wrapped a towel around her face, and what she wore looked more like black bra rather than a bikini. her fren, lagi best. her fren was half-naked and she layed down with her chest on the ground. and she looked so bloody hot! and she wore a red g-string.
then kaiwei stood in front of them and asked me to take a picture of him with them in the background. I did try of coz, but then the lady who was half naked suddenly looked up, and i managed to hide my cam just in time. then she suddenly stood up, grabbed a towel and covered her breasts. and sijun was like: HEY! I SAW HER BOOBS! WOW! then we were like: OH MAN WE MISSED THE FREE SHOW! and then she started talking to her fren. I tell u, she sounded more manly than kumar. it was only then that we realised.... that all these while... we were fantasizing about an AH GUA/BAPOK/TRANSEXUAL! whoa fricking hell! we faster grabbed our volleyball and ran away from them. DISGUSTING i tell u! sijun also kinda regretted staring at "her" boobs. an experience of a lifetime.
Anyway, the next part is a picture story, i wana call it, THE LIFE OF A HELIUM BALLOON. (all captions are above the photos)
We were on our way back home, walking towards habourfront mrt station. After we punched in, we saw this cute balloon standing outside. As seen, it was with a stick, but yet i was sort of standing up. The power of helium gas.
Since jason had the mrt concession pass, he decided to go out to take a look at the balloon and later he brought it along with him into the mrt.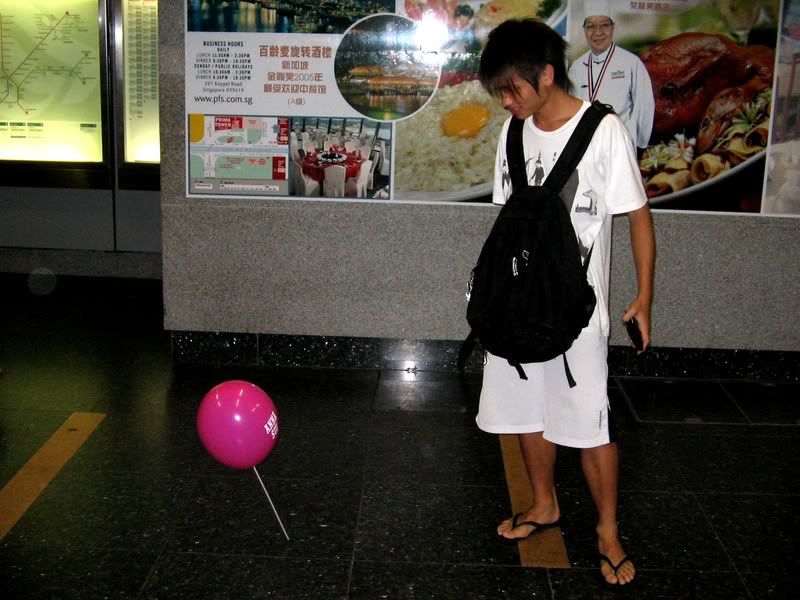 Kaiwei then started to do some stupid stunts with the balloon since it could stand so well.
Then.. the gerald-retarded-brain decided to take over....First it was this...
The this....
After we transit to the east-west mrt line at outram, we somehow got sick of the balloon and we didnt wana take it along with us anymore. But edwin, he saw something special in the balloon, and he wanted to try sucking helium gas so that his voice will change for a short while... and i present to u, the world premier of helium balloon sucking. watch till the end...
And then the balloon died for the sake of our laughter. The end.
OK LA BYE! will blog again... sometime someday.
HOHOHO, Gerald rockeD* at 11:57 pm


Monday, April 23, 2007

Hello dudes. Yes i know its been a long time. Enjoyed the previous video? hahaha. School started today and last week i was voted by the class to be the chairperson for this year's corporate events management. Honoured? yes of coz.. for them to think so highly of me, i have to be. However, due to my kelly services commitments this sem, i have to apologise to them that i cant take up that role. and i ended up being the vice-chairperson instead. (not much of a diff anyway, zzzzz). So this sem, will be the worst sem ever. I'm still wondering what m i doing in HR and corp comm, i should bloody hell be in marketing. Aiya, forget it.

i enjoyed my hols to the fullest, without working and all. played mahjong day after day and went to sentosa with 106 twice in a week. the 2nd time we went, most of us went to play soccer while jason (who realized that he was too noob for soccer) stayed behind to dig a hole which he eventually buried himself in. and i, of coz, took advantage to make him impotent. nabyla, this is specially for u....




and since every1 was hungry, i also tried to reach under to grab some nuts...



and in the end i decided, since i play alot of soccer, its time for me to show the noob beckham how to take a proper free kick. this is one for the world.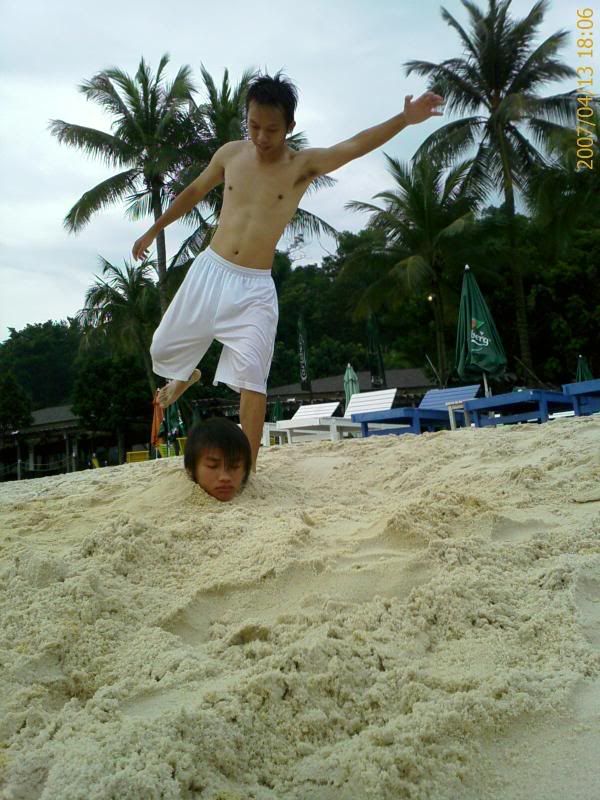 and after that we just left him there and he was screaming for his life coz he said his leg cramp. of coz nobody believed him, until we dug him out and his legs were purple in colour o.O lol.

tt was friday and on saturday, 9 of us went cycling to east coast park from home (simei that is). we went there to have supper. the hawker centre there is HUGE, but their food more or less the same as anywhere else. ah mok and i went to buy fried rice. i ordered the normal fried rice, while ah mok ordered sambal fried rice. the uncle forgot to fry the sambal for ahmok, and he gave us both normal fried rice. of coz, ah mok turned and told the uncle that his was supposed to be sambal. so the uncle went back, took a spoonful of sambal, and re-fried the rice and in less than 10secs, it was ready. after paying, mok and i went back to sit, and he asked me how much was my fried rice. i told him $3... and he told me: WOW NOW I KNOW, A SCOOP OF SAMBAL COSTS $1.

and yuuki saw what we ordered and he told us: 'y so common? come here must eat something special.'
and we turned to see what he had. he had a fried oyster omelette and 2 bbqed chicken wings. then i told him, yuuki urs also quite common what, fried oyster omelette. and yuuki said: 'oh no la i ordered fried oyster omelette, but i told the uncle that i dun wan oyster coz i dun eat them, so these r just eggs.'
whoa lao he is such a noob. in the end, they cost the same... $3 zzzz. i told him eggs are very cheap... but he replied: 'oh, its the frying method that stands out.'
oh my goodness. i nth to say LOL.

ok la blog again when i have time. so long and good night.




HOHOHO, Gerald rockeD* at 10:53 pm


Tuesday, April 10, 2007

hohoho hey there. as promised in my previous entry, below is a clip from youtube featuring loyang sec sch and RI in the first ever episode of The Arena, a channel 5 debating game show. the end result was a narrow 2pt victory for loyang sec sch over RI, but the youtube clip, featuring the 2nd round of the debate is seriously funi. how can any1 go on national television like that?!
P.s: to tp students, if u think the girl in the clip looks familiar, tts bcoz she is yan fang's sister. enjoy the show and watch till the end, u'll be disgusted.

The Motion for the debate was: HEY GOOD LOOKING, YOU'RE A WINNER! GOOD LOOKS TRIUMPH OVER EFFORT.

Loyang sec sch is the proposition.. where RI opposes by arguing that effort is more impt that good looks.

anyway i loved the sentence: 'HOW CREDIBLE IS UR MUMMY?' whoa i laughed till my pants dropped off.


ok so much for laughter, last fri being good fri, 106 decided to hold our usual gathering as sentosa. sentosa has seriously changed since the last time we went. the last time, we took a bus into sentosa and we had to take another bus to siloso beach.. and for those who haven seen it.. this happened...



yup we accidentally broke it off. but now we just have to take a monorail from vivocity and it brings us straight to siloso beach, uber convenient. we did some normal activities like cycling...



and we tried to overtake the beach tram coz it was fricking slow, but we forgot that the beach trams had something called a BRAKE. it came to a sudden stop, and justin who was in front of me, stopped too. and i had to brake all of a sudden, causing my right big toe to brush the road and of coz it bled like hell.



then we decided to go into the waters and afterwhich we buried ourselves in sand...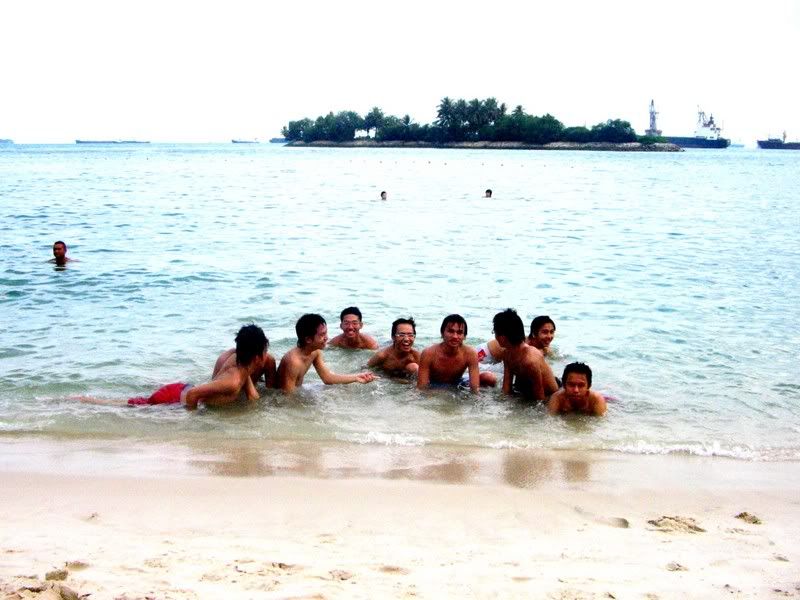 of coz my bleeding toe hurt like siao. coz it was both in salt water and in sand, but i emerged a stronger individual and i was so proud of it that i had my name tatooed on my back.



took the skyride up..



and we're supposed to take a LUGE ride down. the luge ride is sth like a cheapopo go-kart. it uses a simple lever concept to create a vehicle that makes full use of gravity to bring us back down to sentosa island. and since it was good friday, the queue was like WHOHOO! we had to wait like half an hr just for a ride. then behind us were 2 china couples (Grrr...). the females dressed like they were prostitutes, and the 4 of them kept trying to find a gap to cut our queue. they were seriously stupid. we had 13 ppl.. how can any1 even think of cutting a queue with 13 ppl in front of u? but then edwin suddenly shouted: EH SPIDER! WHOA SO BIG!..



all of us turned and stared at it for very long.. when we turned back.. we already kana cut queue lol. but eventually we did manage to take the bloody luge ride.. and if u still have no idea how it looks like.. its like this..



and our day ended with dinner at macs. so long and good night.




HOHOHO, Gerald rockeD* at 8:31 pm


Thursday, March 29, 2007

hello ppl sorry for not updating for the past week. was busy gaming and all. but i have to bring this up somehow. last wed, derrick gabriel and i were on the train towards outram park for our 1-day-stocktaking-at-vivocity's-giant-job. it was night shift and rick and i bought a tube of HALLS to make sure we dun sleep on the job. the trip was rather long and at aljunied we started talking and making fun of each other, then rick rolled his halls wrapper into a super tiny ball and threw it at me. lol then we started looking for it high and low but somehow we couldnt find it, coz its damn tiny and the train was moving. we searched for around 3mins and then we gave up looking for it.

then when the train left kallang, there was this middle aged man who sat opposite of us whose arm was full of tattoos. really alot of tattoos, so much that 80% of his skin colour was green, serious. he shouted across: U BETTER PICK IT UP NOW!
then we looked at him, tried to find the wrapper and we told him we couldnt find it. then he said U BETTER PICK IT UP NOW BEFORE I GO OVER AND SLAP UR FUCKING FACE.
when he said that, immediately i stopped searching, i picked up my handphone, played my games and whistled. then he went on shouting at us and he even came over to shout at us more. he said: I'M COMING TO SLAP UR FUCKING FACE. DUN U ACT LIKE HOOLIGANS.

wha come on, ok i know its our fault tt we threw it in the first place, but its not like we wanted to litter... we even made an attempt to find it dude. and then he got really angry and started telling us about being hooligans and how we shouldnt be like him. 3 of us really wanted to rebutt and just give a verbal kick slap to him in the face but we knew it wouldnt help the situation. so we just kept quiet. he shouted at us from kallang all the way to city hall damn it.
come on, u r a middle aged guy who is trying to gain our respect by shouting at us and telling us not to be hooligans, but look at urself, hair as long as a girl, tattoos all over ur hand, using vulgarities at teenagers. u dun even deserve any1's respect. seriously he is a guy who cant even set a good example and be a proud figure of today's society and he is trying to tell us not to be hooligans. its like a prostitute telling a girl not to have casual sex. it makes me despise adults more. trying to act all mature without even realising that many teenagers can think better than they can.

on a lighter note, celebrated wenjun's bday last sunday at park mall's fish and co. honey meijun wenjun and i had a romantic 4 person dinner coz shing was in taiwan, weeyang had his sister's concert and nic had to book into tekong or sth. lol and fish & co really has a unique way of celebrating birthdays. the staff will come together and do a bday rap before singing the bday song. and the birthday person has to stand on the chair and hold a sparkler. whoa wenjun was seriously paiseh. just imagine, a tough botak commando standing on a chair holding a sparkler.. lol, i even video-ed it down.

alright i think i better stop here before it gets long and boring. my next entry will be on the first episode of the debate show: THE ARENA with loyang sec vs RI, i have a funny clip to share regarding that. for now, so long and good night. ok la bye.




HOHOHO, Gerald rockeD* at 11:47 pm


Friday, March 16, 2007

Oh hello! it seems like a trend blogging about results, so i shall follow suit. its strange, lynn has a miracle computer (apart from her miraculous loud mouth). she could access my exam results in tp's web portal at 12pm, and she called me immediately to help me check. thanks alot, now u know y u're my fren LOL. i was fricking having a SABA fish korean set meal when she called. the strange thing was, after lunch i went home at 2pm, i couldnt access my results, the records dun show anything... i asked alot of ppl, all of them didnt have their current semester exam result's records... and in lynn's com, she could see everything at 12pm! received the stupid sms by 4pm, and only at 5 plus then i could access my results online using my com. ok i got ALL B+. nth higher, nth lower. all 5 subjects also B+. satisfied and contented? of coz! super happy? not at all. but im happy enuf to know tt i pulled up my bloody GPA from 3.29 to 3.34. need to push it up to 3.5 at least. god bless me.

and oh ya, im still out of job. haha. its not tt im complaining. but normally during the hols, i'll be busy working. this sem, im out of job and 50% of the reason is bcoz i do not wana work haha considering the fact that this will be my last hols. next sem's hols will be eaten up by the cruel internship. but hey, i did try to get a job though. one of them is a telemarketer for UOB bank's credit cards. 5day week, $1200 per month. shiok right? but i quit the moment i stepped into their training. if i worked, i'd be required to memorise 50+ pages of notes consisting of eligibility of application for credit cards and the documents required for various credit cards. and there were at least 8 different credit cards. for a months' job, totally not worth the effort. and if u fail to meet their daily sales target, ur monthly pay will be cut down to $800, what a major turnoff. gabriel and rick also couldnt tahan the training programme.

haha so the next day, we went down to this company at farrer park. whoa this company damn power, the receptionist that greeted us really shocked me. he looked like a chao ah beng. chains on his jeans, huge ear ring, dyed hair which was SUPER SPIKEY. then i told gab.. whoa this guy looks like a typical guy who sells those irritating $2 donation tickets on the streets, something which i despise coz alot of newspaper articles revealed that those were fake donation companies. but with those thots aside we went to meet the manager, and whoa he super slack sia. he talked to us like he is our fren, and he told us this: "WE ARE A MARKETING COMPANY. WE COMMUNICATE WITH CONSUMERS THRU ROADSHOWS. UR BASIC WILL BE AROUND $1100." we were like.. GREAT! and he asked us to come for training the next day.

we came for the training the next day. they asked us to wait half an hour. then the EXISTING WORKERS went into this room, all of them were around my age. scary. then they shouted cheers after cheers after cheers. those kind tt ppl shout during poly orientations. super lame. then suddenly gab turned and told me: "HAHA GERALD U KNOW AH, SEMANTER LAST TIME WORKED FOR THE DONATION COMPANY, THEY ALSO LIKE THIS SHOUT CHEERS ONE." then i was like haha whoa thats interesting. but the next moment, i was like WHAT?! OH SHIT, DUN TELL ME......
then i saw this guy, he held a A4 board, it reminded me of sth. u know on the streets when some1 approaches u to buy a $2 donation ticket, he will show u something like a LICENSE to sell. tt A4 board looked exactly like the license. my thots ran wild.

then the 'trainers' came out of their CHEERING ROOM. a butch approached us, gab rick and i thot 3 of us were gona be trained together. in the end she took gab only. rick had an individual trainer and i had another chao ah beng as my trainer. he talk on the phone ah, out of 10 words got 7 words is hokkien vulgarities. his english is 1min past 6, he smoke until his teeth super yellow and gums black. the next thing, he looked at me and said this: WE ARE A MARKETING AND COMMUNICATION COMPANY. I BRING U GO CITY HALL, AND U COMMUNICATE. U NEED TO HANDS ON TO LEARN. FOR A START, U SELL DONATION.

right after he completed his sentence... i walked off and told him im not interested. 1000000 vulgarities rang in my head. i wasted 2 days of my bloody time on this stupid donation company. these type of companies should be condemned, and i hope all their workers and management rot in hell. so long and good night.




HOHOHO, Gerald rockeD* at 3:51 am


Saturday, March 10, 2007

Ok i know i haven been updating. too busy, and blogging is just so out of fashion for now. Results are coming out in 5days time, dun have any high hopes, just hope to maintain the bloody gpa. oh ya, right after the exams, the groupies (excluding mag, coz she got a BANG BANG wedding to attend, not hers fortunately) went to catch THE PURSUIT OF HAPPINESS. it's seriously the wrong show to watch after the exams. coz we're in such a celebratory mood and the show is damn bloody sad. so it contradicts the mood which we should be feeling. anyway i have to admit, that will smith is really such a great actor and it is a true story based on this guy named CHRIS GARDNER who had many downs in life before he succeeded someday. so it showed his problems after problems after problems. i shall not comment on the storyline since its a true story. but besides the heartwarming plot and all, the movie sucked.

coz in a movie, i look for an opening, body, climax, and conclusion. the opening and body was good but there was no climax. his problems all the same one, everyday he face the same problems, and for 2hrs, they showed his problems after problems after problems. and after 2hrs, just when u thot u were able to see him succeed, u were disappointed. after 2hrs of super jialat kind of problems, the ending was just 2 slides of words saying: CHRIS GARDNER THEN BECAME A MILLIONAIRE blablabla. nv show how he finally succeeded and his life when he succeeded. i was so looking forward to tt since i tahaned with him thru all his bloody problems. and the movie ended with the backview of him and his son walking... and here is their conversation.



Son: KNOCK KNOCK




Chris gardner: Who's there?




Son: Nobody.




Chris: Nobody who?


*Silence....*


Chris: Nobody who?


*Silence....*


Chris: Nobody who?



Grrr.. get the joke? duh.

tmr morning, im gona play soccer in tp! this time, we are prepared, we booked 2 street soccer courts in tp. and last week when we went to play soccer, we were so pissed. coz we had a lot of people and we had to play outside the street soccer courts, on this huge flat cemented land. its just a piece of flat land near the street soccer court. while we were happily enjoying our game (esp after the exams and all), the TP security guards came. and u know, security guards and me, we just dun go together. below is the conversation, its so dumb!



Guard: are u all tp students?




Us: yes.




Guard: do u all know u all have to write a memo via ur lecturer and get it approved in black and white before u can play?




Us: the lecturer ran out of memo




Guard: ya then in that case, u all should write a memo.




Us: the lecturer ran out of it.




Guard: but u all still got to write memo.




Us (pissed): wha lao this cemented path also must book?! its not even a facility.




Guard: ya but still must book.




Us: then this piece of cemented land is call wat?




Guard: it is called watever the tp management wans to call it.




Us: is there a name for this piece of land so that next time we can book?




Guard: cant u read the sign there, this piece of land has no name, it will be named watever the tp management would like to name it.




Us: wha lao! y last time we play also nth wrong now need to go thru all the stupid memo?




Guard: pls la, now the management very strict. pls dun make it DIFFICULTY for me.




Us: we just started playing man.




Guard: i know, but if management check, i kana. pls dun make it DIFFICULTLY for me.



in the end we just left. stupid man. really need to give tp some feedback lol. ok i shall stop here. update again. so long and good night. OK LA BYE!




HOHOHO, Gerald rockeD* at 12:10 am


Monday, February 26, 2007

Hi, for those who forgot, I'm Gerald. after so long, im finally here to update, and what a time to do it, coz i'm actually in the middle of my exams! lol. but it's one of the crazy things ppl do when they get sick of studying. and of coz last week was a week tt was filled with mixed emotions. i was happily visiting relatives and taking angbaos ($$$$!) and the next moment, i'm thinking of the exams.

yes as usual, the common qns during CNY... 'SO HOW? HAVEN NS AH?' and i had to fake a smile and say: NO, HAVEN. and my cousin, he totally read my mind. the next moment he came up to me and said: "HEY NEXT YR U DUN NEED TO WEAR ANY NICE CLOTHES LA, JUST WEAR A T-SHIRT THAT SAYS 'I'M GOING TO NS THIS YR.' " how i wish man haha.

Ok, on to a funi experience on CNY EVE..

Winda, my indonesian classmate for 3 yrs in sec sch who is currently studying in australia, dropped by Singapore when she had a transit flight from indonesia to sydney. coz she took SQ, she had to transit in Singapore. and she was here for.. 11hrs -_-". she really came on the wrong day, on Chinese New Year's eve and will be leaving on the same night on a 12am flight. Shing, Weeyang, Nic and I decided to drop by the airport at least to send her off, coz no one was going to receive her from the airport in the first place. i mean its CNY eve. she said she knew that we will be busy with cny but she could not change the date of her ticket coz it was a promo ticket by SIA.

i smsed Winda to inform her that we will be sending her off. and she replied, OK GREAT! DUN FORGET MY PRESENT! and i was like wat the hell! whoa really a panic moment. it was 3pm on CNY eve, with most shops closed. thankfully i managed to dig out a box of fererro rocher from my kitchen, and we decided to make do with that. Shing suggested that we could buy for her a last min card from the airport. coz CNY eve was really a busy day. so upon arrival at the airport, i met Nic. the rest were late. so we knew we had to go buy the card. we went to Mini-toons, but it was closed. the only other bookshop in the airport was TIMES... but it was at the other end of the departure hall. so we walked behind the check-in counters to avoid seeing Winda. coz obviously a person in the right frame of mind would wait in front of the counters instead of the back.

we were walking halfway... and suddenly i heard: "GERALD!" i didn't even want to turn. yup, so nic and i got 'caught' by Winda. couldnt buy her card. more panic moments. thankfully weeyang was late, so immediately i took out my phone to give him a call to buy the card. the moment i took out my phone... weeyang came and said 'HI!' oh my stars... he also kana 'caught.' our final hope, Shing. i called her and she agreed to buy the card. 5mins later, she called back to say: 'hey gerald, mini-toons closed, so now im gona walk behind the check-in counters to go to TIMES.' whoa when i heard her say that, i immediately said "NO NO! DUN COME HERE! LATER U KANA CAUGHT ALSO! DUN COMMIT THE SAME MISTAKE WE ALL DID!" haha so eventually Shing bought the card and all of us secretly found excuses to leave for a while to go and write the card. 4 of us wrote so bloody big tt we filled the card until the last page, leaving no space.

then suddenly, out of the blue, wenjun called and said: 'HI I REACHED AIRPORT! WHERE U ALL?' and my immediate reaction was: 'ALAMAK! NO SPACE!' and winda was questioning me about what space i was talking abt. of coz i had to avoid her qns. lol so eventually wenjun didnt wirte in the card. we took some group and individual photos with her, and in the process of doing so, weeyang needed someone to hold his ZEN MICRO (mp3 player) for him. he passed it to nic, and nic needed to take an individual photo with Winda, so he passed it to winda to put it into her bag. managed to snap quite a few photos before Winda left. i managed to upload one below.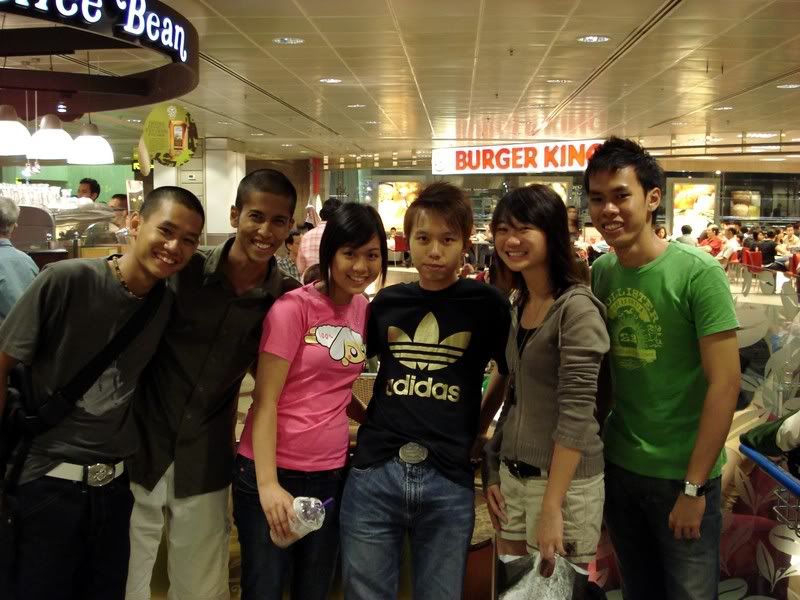 From left: Wenjun, Nic (NS BOYS), Winda, Me, Shing & Weeyang. Shing AND Weeyang. shing AND weeyang. ShInG & WeEyAnG. sHiNg AnD wEeYaNg.

and not long after, Winda left... she will be missed.
>
>
>
>
And Weeyang's Zen Micro, is now in Sydney...

HAHA! so long and good night. OK LA BYE!




HOHOHO, Gerald rockeD* at 7:23 pm


Tuesday, February 13, 2007

Wooo... yes yes finally an update! bet u all waited so long. well nth much happened during the past month, i was feeling the pressure when all the projects were piling up and with all the deadlines/presentations to meet. but i did take some time off to watch the ASEAN football championship semi-finals between Singapore and Malaysia! OWNING i tell u, serious. the stadium was fully packed. 55,000 fans. u could feel the stadium shaking when every1 stomps their feet for the kallang wave, u scream with ur lungs out when singapore scores but yet u cant hear urself coz every1 else is louder than u. the climax was when Lionel Lewis, the singapore goalkeeper, saved the final penalty and brought singapore to the finals. Every1 stood up and chanted so loudly to the tune of OLE OLE OLE OLE! and there i was doing the same, until after 10secs i realised tt getting out of the stadium will be a problem. and then i dragged shahid and omar along with me and we ran out of the stadium lol, and behind us there was like 10,000 more running, and it made us run faster. haha, what a night it was. a picture tells a thousand words...




anyway, the rest of last month was filled with projects projects and more projects. it's like every sem there's a cycle, and every student will have to go thru the cycle at least 6 times to graduate. i was so busy with projects tt i didnt have time to cut my hair...



but i'm glad its all over. however, now there's the exams. another chore. and it doesnt help tt CNY falls during the study break. and CNY, its also a cycle, but the diff is tt it repeats itself every damn year, for as long as i will live. the good thing is the of coz the money received. how i wish i can record my voice and let it playback at every place i visit. coz the qns will be the same.

The FAQs/Common Statements of CNY

1. Hi happy new year! whoa so big already ah?
this is sth tt i hate to ans. its like DUH im standing in front of u now. wat a dumb qns



2. haven ns?


another dumb qns. i HAVE HAIR for goodness sake.

3. poly yr wat/where u studying now ah?
i hate to ans this coz i will say tp business and then they will ask me wat do i take in business. then i will tell them. and they will nv get it.



4. aiyo i remember last time u small tt time i carried u leh, now u so big.


-_-" move on with life already pls



5. got girlfriend anot?


this is the worse qns ever. coz if its a YES, its a wrong ans. if its a no, its also a wrong ans. but normally i will tell the truth and say NO... and hear them nag for 2mins thereafter, b4 i leave their table to find food.

so after saying all these, i can proudly declare tt i PAINSTAKINGLY EARNED EVERY ANGBAO OF MINE!




HOHOHO, Gerald rockeD* at 3:16 pm


Thursday, January 18, 2007

What a week, What a sem. It's the time of the school year where everything starts piling up, from deadlines to presentations to individual assignments to tests. They are all coming! From now till 12 Feb, i just have to tahan. i'll have an average of 2 deadlines per week, excluding presentations and tests. Corporate Communication is super busy man, i should have taken electives like Marketing. but they dun offer HR & Marketing anyway. sian.

As promised, something abt ice lemon tea. Remember my blog entry some time ago abt this malay seafood stall near our sch which sells nice fried rice and where the auntie is super nice and friendly but they have to pay a rent of $10k/mth? the groupies go there an average of once per week, and everytime we go there she will be there to greet us with a smile and talk to us. her stall is, by the way, at Blk 829, tampines ave 3. everytime the 6 of us go there, we will buy their homemade lemon tea. it's quite nice, but its not 100% lemon tea. its nice coz dinesh found out that they mix it with calamansi. and one cup is always not enuf for komala, me and dinesh. so we always have to end up ordering a second cup. total cost for 2 cups is $2. sometimes after the 2nd cup i still feel thirsty.

Then there was once the auntie remembered that we keep ordering twice, then she told me: 'U all should order the big cup! also $2! more worth it.' then i was like ya ok. but at the back of my head i was thinking yeah right how worth it can ur $2 big cup get? at most its just the amount of 2 small cups put together with ALOT of ice. coz tts usually the case. the next time we went back, dinesh komala and i decided to take a shot, we ordered the $2 big cup iced tea. the rest bought the usual small cup. the outcome? look below...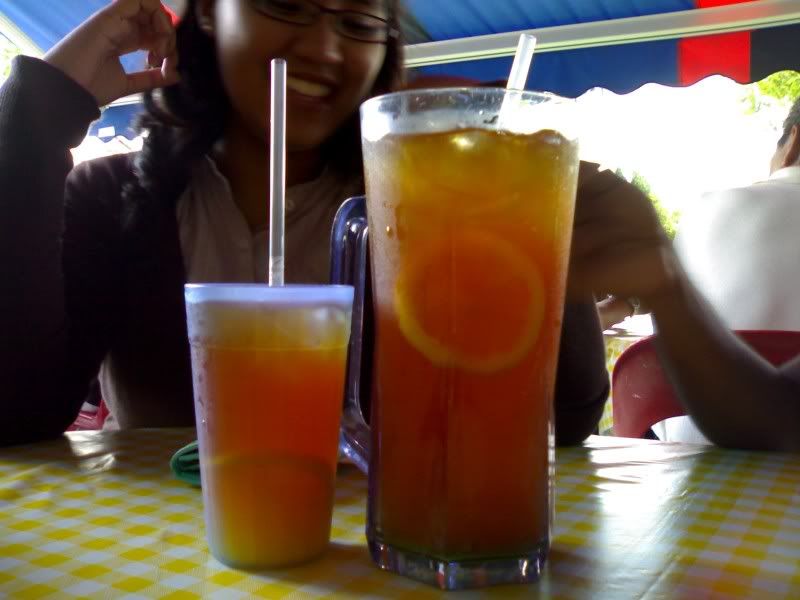 OWNING!!!! I was like, WAT THE HELL?!?!?!? SO BIG??!? it was so big that after i drank 3/4 of it, i cannot tahan anymore, my stomach bloated already. whoa seriously worth it. go get ur big cup of ice lemon tea today! hahaha.

Haha the groupies were rather stressed on mon, coz after coming back from their weekends, they got bombarded with deadlines. dun worry groupies, we'll pull through every deadline together. and they destress by taking dumb videos. and its fine with them coz they weren't the dumb ones, it was me. here is what i mean...

This is a picture of a cookie...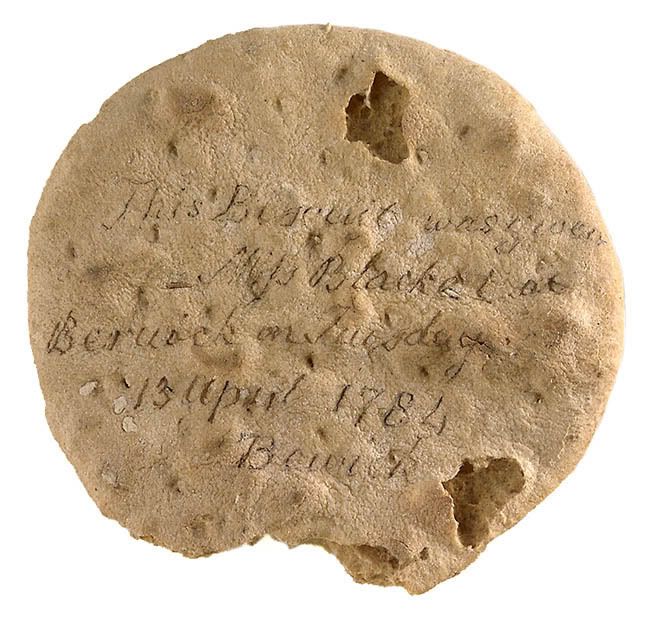 Here's the challenge...How many bites/mouths does it take u to finish this cookie, or one thats around this size? watch the following video, but do not try this anywhere.


and if u've watched the movie THE HOLIDAY, below is a singaporean version of the napkin man!

Alright! thats all for today, shall blog again when i have the time. so long and good night. OK LA BYE!




HOHOHO, Gerald rockeD* at 5:29 pm


Saturday, January 13, 2007

Inspirational Quote of the Day: Everything Happens for a Reason

Hi there, it's been a long time i know. Tried to blog but sometimes i forgot.
2 reasons:
1) I am busy with projects and assignments (as usual)
2) I have nth interesting to blog abt. And i dun wana tell u all how i woke up, how i brushed my teeth, how i went to sch, blabla. so boring. no offense to other bloggers though.

Got back our HR project. 76/100. It's good enough for me, considering the fact that everything i do this sem, its a B+. So i can say tt i'm consistent. Its only to make me feel better. I just hope each of the groupies wun feel that their individual parts pulled the whole group down. I wun even exchange 10marks for 10days without you guys, coz u all r everything i could have asked for. i say this for 2 reasons:
1) i dun wan u all to lose confidence in the next HR problem (HAHAHA!)
2) it came from the bottom of my heart (AWWWW...)

Oh ya, last tues was jason's birthday. Loyal readers of my blog should know jason, the guy who sniffed pepper at macs. his birthday was last week. and it was fun seeing tt guy grow one year older. i say this for 2 reasons:
1)This was him in 2006



2) This is him in 2007



and of coz, the 106 guys who turned up. many are still missing.



Well other stuff which are worth mentioning, 2/7 of the lamers (now known as L7), Wenjun and nicholas, have gone to the university of pulau tekong for a degree in National Service just a couple of days ago. It just feels so different without you guys, but however sad the occasion will be, i will not get emo. I say this for 2 reasons:
1) Its only for 1yr 10months
2) After I get into the university of pulau tekong myself, it'll just be months before u both ORD (sheet!).

We had a sinful dinner at suntec's fish and co. How sinful? Oil literally squirts out whenever u cut a piece of fish. And after that i ate mac's ice-cream. I can feel it, the FATS, they are picking on me!

Nicholas and wenjun (respectively from left to right) are the two guys seated down. Nicholas is already well-prepared for his admission into the lovely island full of mosquitoes and wild boars.



Everyone wants a piece of nicholas' head, but meijun just wans to eat a slice of lemon.



And for 18yrs 7months of my life, now then i know that we can go into suntec's fountain of wealth. I say this for 2 reasons:
1) i thought we had to pay to get in
2) the security guards look damn fierce

Take Note: Weeyang is smart indeed. While all of us had arms around each other, he decides to put his right hand down, in the hope of holding shing's hand. A CUNNING PLAN!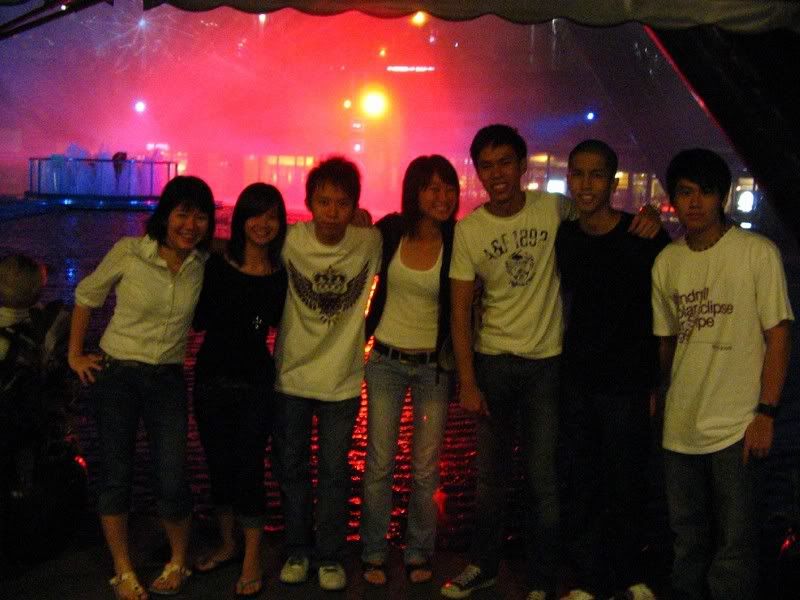 and if u didn't realise, all of L7's pics, we were standing in alternate colours of black and white. its bcoz on that day, it just so happened that 4 of us wore white and the other 3 wore black! lol.

I think i better stop here. I'll blog about Iced Lemon Tea in my next entry. And i promise to blog again by latest thurs. I have to stop here for now. I say this for 2 reasons:
1) The entry is getting a little too long (partially bcoz of pics)
2) I lazy to type already whohoo!

So long and good night.
OK LA BYE!




HOHOHO, Gerald rockeD* at 2:37 am